HDR Stands for "High Dynamic Range"
| | | |
| --- | --- | --- |
| Traditional Image | | HDR Image |
An HDR photo is made by combining 3 or more exposures of the same subject, which creates an image that contains much more tonal information (dynamic range) than a traditional photograph. Digital photos are usually 8-bits in depth, which describes the number of tone levels in the image (from black to white, and all the grays in between). HDR photos, on the other hand, are created using 32-bit images that contain so much information they can't even be correctly displayed on a computer monitor. Notice that an HDR image contains much more detail in the shadow and highlight areas, as compared to a traditional image which tends to either "fill-in" the blacks or "wash-out" the whites.
| | | |
| --- | --- | --- |
| Traditional Image | | HDR Image |
An HDR image is created by taking multiple 8 or 16-bit exposures of the same scene and combining them into one huge 32-bit image. This is usually done with 3 exposures – one is normal, one is too light and one is too dark. Image-editing software is then used to blend these exposures to create an HDR image file. Since your computer monitor is only 8-bits (or sometimes 16-bits), the image can't even be displayed correctly at this point.
| | | | | |
| --- | --- | --- | --- | --- |
| Dark Exp (-2) | | Normal Exp (0) | | Light Exp (+2) |
This is where there is a misnomer in terminology. Producing an HDR image is only one of the steps to making the final processed "HDR" image. The next step is what actually creates the cool cartoonish look that everyone calls "HDR," but the final result of this process isn't technically an HDR anymore (remember, a true HDR is 32-bit, while a final processed image is only 8 bit).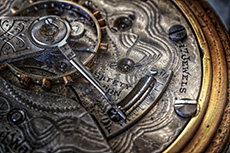 The image is now converted back down to 8 bit using a process called "tone mapping." This is the most important step. A special program is used to process the HDR image, and lots of information has to be removed to convert an image from 32-bit back down to 8-bit. By altering the settings in the software, the photographer can tell it how to deal with all that extra information, and therefore shape the resulting effect. This is where most of the creative process occurs in this technique: by deciding what information to get rid of. The effect can be enhanced or reduced to create an image that looks anywhere from photo-realistic to eyeball-melting surreal.
At this point, the processed file is usually taken back into an image-editing program at this point for more fine-tuning and color adjustments before saving the final image. Most photographers have their own process workflow (which is usually highly-protected), and they can sometimes spend many hours on a single photo. HDR photography can be very time-consuming, especially on the processing end, but the final results can be well worth the time spent.